Nokian WR SUV 4 225/60R18 104HH

available in Bradford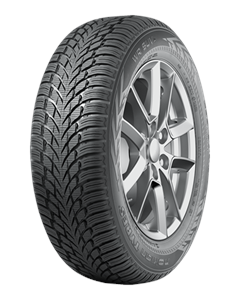 XL
---

WR SUV 4
225/60HR18 NOKIAN WINTER WR SUV4 XL 104H
---
More information
The new Nokian WR SUV 4 winter tyre is a safe and reliable choice for sport utility vehicles and crossover models. It is specially developed for Central European SUV drivers ensuring the best performance on snow, slush and heavy rain offering superb wet grip and precise handling. The robust and durable structure combined with Aramid Sidewalls ensure that the tyre is stable and can withstand the impacts and cuts that may occur while driving.
EXCELLENT HANDLING ON WET, SLUSHY AND SNOWY ROADS.
MAXIMUM STABILITY AND DRIVING COMFORT.
EXTREME DURABILITY.
OVERCOME ALL THE SURPRISES WINTER HAS IN STORE
The new Nokian WR SUV 4 provides exceptional combination of snow performance, precise handling and superb wet grip on slippery driveways and sleet-filled roads.
NOKIAN TYRES ARAMID SIDEWALL TECHNOLOGY
Durability and protection for surprising situations
The sidewall compound that is exceptionally durable and puncture-resistant contains extremely strong aramid fibres. The same material is utilised by the aerospace and defence industries. The aramid fibre strengthens the sidewall rubber to withstand external impacts and pressing against the wheel flange.
SUPREME HANDLING ON WET, SLUSHY AND SNOWY ROADS
The specially tailored sipes stiffen the tyre improving handling on wet and dry roads alike while the rigid SUV winter compound reliably responds to the rise and drop of the varying winter temperatures.
PROVIDE MAXIMUM GRIP ON SNOW
The claws grip effectively on surface when driving in soft snow and on other soft terrain.
---
Nokian
225
60
18
H (Max Speed: 130mph)
104H (Max Load: Unknown)
Find 225/60 R18 Tyres